Entertaining Experience of Japanese Kaiseki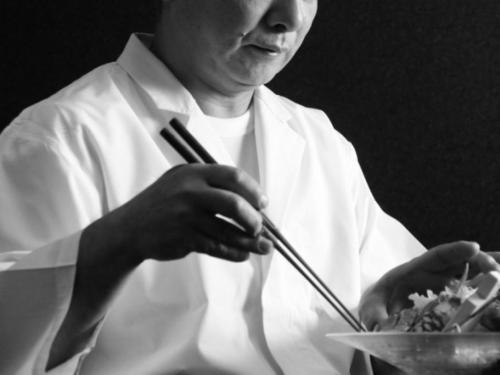 Japanese Kaiseki Course at Atmospheric Dining Area
The Nishiizu Dining Area which Nishiizu Koyoi offers is a very important part of our accommodation. It is a dining area to provide private space for each of our guests to allow them to spend speical time and relax to enjoy our ryokan's original Japanese dinner.
Jun~Aug Summer Dinner Course 夕日(Yu-hi, Sunset)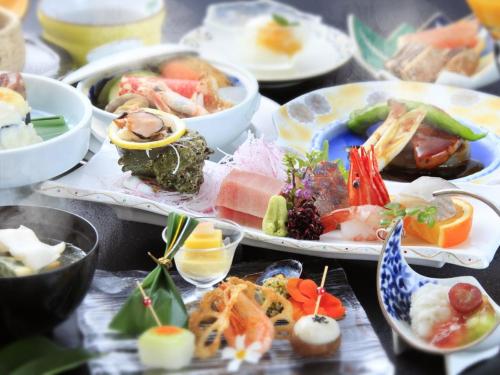 Pike eel with plum jelly sauce over and lotus potato
Sorghum tofu, mussels cooked with coriander
Lotus root chip with Toda sweet shrimp and Torobotchi
Eel sushi wrapped in bamboo leaves, white gourd sea urchin flavor and steamed taro
Awabiiso flavor soup
Seasonal sashimi pentathlon
Rice eggplant white source grilled
Todabashi sherbet
Foie gras teriyaki with summer radish
Bouillabaisse containing Toda specialty Koashi crab
Wasabi buckwheat noodle
Mango pudding and chiffon cake
Dinner Serving Hours
At Nishiizu Koyoi, we provide dinner in two batches on Saturdays and a day before Japanese public holidays.
First batch dining guests start from 17:30
Second batch dining guests start from 19:30
We will inform you the dining hours upon your check-in. Please note, depending on the number of reservations of each day, we may not be able to honour your preferred dining batch, and we may extend this system to other days. We thank you for your kind understanding.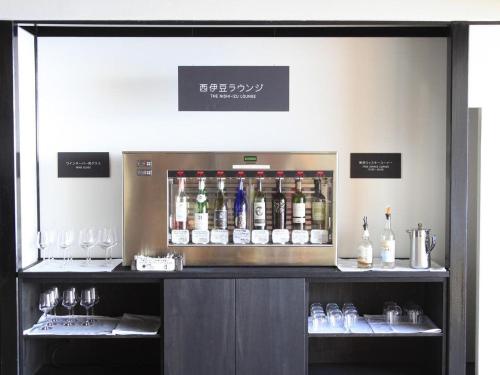 Koyoi Wine Server
Enjoy 8 different kinds of wines available at our wine server at the lobby lounge (surcharge), kept and chilled at the right temperature. Feel free to taste unfamiliar ones and get a full glass of your favourite. We also have free drink corner at the lounge. We constantly challenge ourselves to provide detailed and entertaining services to our guests.
Healthy and Voluminous Japanese Breakfast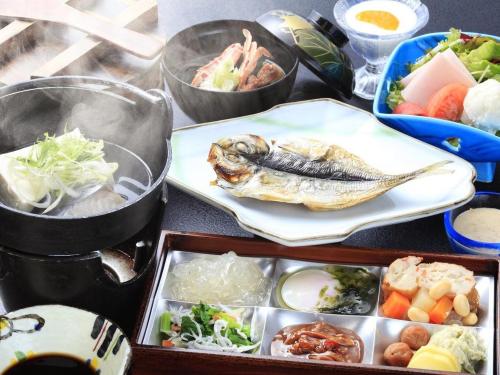 Seasonal dried fish
Fresh vegetables
Yudofu
Crab miso soup
White rice
Yogurt with tangerine

Mihama box (box divided to 6 at the front in the picture above)
- Izu specialty gelidium jelly
- Marinated small fish and vegetables
- Toda minced fish Daifune boiled
- Toda special squid three bushel pickles
- Soft boiled egg with Iso-style jelly
- Small pickled Izu plum and Amagi marinated in Wasabi
? Menus are subject to change.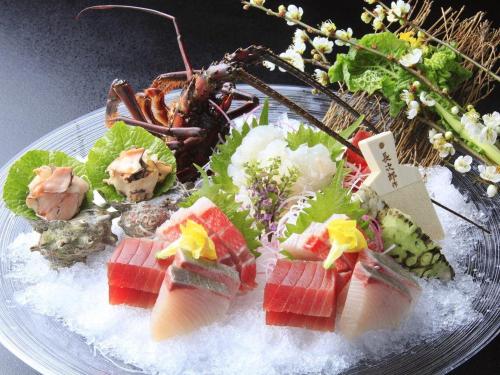 Food Allergy Inquiries
If you have any food allergic issues, please notify us at least 3 days before your arrival date so that we can offer you alternative dishes using different ingredients.
For guests with serious allergies, please feel free to consult with our General Manager about bringing your own meal to our accommodation.
<Food Allergies We Can Handle>
Shrimps, crabs, eggs(chicken eggs)
<Food Allergies We CANNOT Handle>
Soba, peanut, flour, dairy products etc
?Please note, additional charges may apply for preparing alternative dish outside our fixed course menu
?The processed food we use upon preparing our meal may include above allergic ingredients, therefore alternate dishes may not be 100% allergic free.
?The kitchenwares and dishwasher we use are fully shared within our kitchen, therefore the allergic ingredients may be remaining. We thank you for your understanding.